I think in these uncertain times, it is best to repeat the motto "stay calm and carry on". We, in property management, are in a service industry and so must do our best to carry on by supporting our residents in the safest way possible for everyone.
What should I do to prepare employees and residents for the Corona Virus? As Steve Core, CPM, summarized in a recent NAA Webinar, "We must educate, equip and support". Occupancy Solutions has reviewed several up to date resources and compiled the following summary of best practices for your edification:
* Provide postings and ongoing updates from Centers for Disease Control and Prevention (CDC), World Health Organization (WHO), local health departments, and government agencies to your residents in an effort to inform, calm, and dispel any misinformation;
* Close all common areas if possible – give consideration to laundry and rest rooms by leaving them open for resident use;
* Appropriate notices should be displayed throughout the community including but not limited to:
o Limitation of visitors & Closed areas
o Changes in office processes
o Changes to maintenance procedures
* If available, provide hand sanitizer throughout common areas and office;
* Provide employees with adequate supplies and personal protection equipment (PPE).
* Identify contingency plans to order supplies if a primary vendor is out of stock;
* Cancel/postpone resident events and all group gatherings;
* Follow CDC guidelines on sending employees home if they exhibit any symptoms of the virus;
* Set up for alternative meal services / deliveries for those communities that provide food;
* Management office staff should be available only by appointment. Provide a symptoms checklist for staff to ask residents questions prior to entering office space. Maintain social distancing if a meeting does take place and sanitize all spaces, including pens, before and after each meeting;
* Restrict visitors when possible. Ask to not enter if they have or had any symptoms in the last 24 hours or had contact with anyone who may be contagious or have been confirmed to be positive for the virus;
* Disinfect all common area touch points on a continual basis;
* Implement emergency service request only policy. Define for your team what is an emergency –
o No hot water
o No heat
o No electricity
o Water Leak
o Refrigerator not working
o Range not functioning
o Backed up drain or toilet (for studio or one bedroom)
o Life safety equipment malfunction
o Unsecured apartment
o Lock out
o Health and Safety related issue
* Only allow vendors to complete emergency and essential work within the apartment homes and common areas;
* Create a list of secondary work duties to complete – including, but not limited to, grounds clean up, common area repairs and cleaning, vacant unit preparation, online trainings etc.;
* All staff should use appropriate PPE for tasks including rent and paperwork handling;
* Consider having non-essential employees work from home or consider adjusting reporting hours to limit the number of people in any one space;
* Consider revising PTO / sick time policy to adjust if necessary;
* Create contingency plan if team members are unable to report to work;
* Cross train staff positions;
* Create a symptoms questionnaire to determine if a resident / employee has symptoms and had tested positive;
* Practice social distancing and avoid hand shaking;
* Notify your local health department and CDC if a "positive" test is identified within the community, however, due to privacy laws do not identify any infected individual to the other residents.
Management companies generally have an emergency preparedness plan in place, but now will need to create a section for handling pandemics. Human Resource departments must update plans for flex time, shift schedules, working remotely, paid time off and sick time policies.
Managing virtual workers has its own challenges. IT departments will have expanded assignments to equip team members with equipment to work remotely but it's not as easy as just grabbing a laptop and working from the sofa. Residents will be asked to make on-line rental payments and maintenance requests. Leasing may have to be on-line only.
Housing authorities are asking owners and managers to work with residents who may face eviction for non-payment of April rents due to Corona Virus illness or reduced income due to business closures. Consider allowing payment plans, accepting partial payments and waiving late fees.
HUD has published a new guide for public and affordable housing entities. It suggests postponed physical inspections and to proceed with file reviews using electronically-secure upload options for submissions. Draw requests and payments will be processed as usual but there may be some extended timelines due to social distancing and working from home. Scheduled evictions unrelated to issues of life safety should be postponed stating displacement of residents can lead to a greater risk of exposure for those displaced, as well as a greater possibility of transmission of the virus.
As we await measures to support those who have lost wages and will experience economic instability due to COVID-19, please work to preserve tenancy as much as possible.
Check with your state housing authorities for updates on reviews, audits, monitoring and inspections. Join those of us at Occupancy Solutions in taking an active role in preventing the spread of infection by following the expert guidance from these organizations.
Resources:
World Health Organization WHO.int/emergencies/diseases/novel-coronavirus-2019 for rolling updates on the virus, workplace readiness, basic protective measures and press briefings;
Centers for Disease Control & Prevention CDC.gov/coronavirus/2019-ncov/index.html for information for businesses, interim guidance and FAQs about the virus;
National Apartment Association NAAHQ.org/education-careers/online-learning/webinars/coronavirus-outbreak;
National Multi Housing Council NMHC.org for suggested procedure for dealing with self-quarantining residents;
HUD guideline https://www.hud.gov/coronavirus
Institute of Real Estate Management IREM.org/learning/coronavirus

Schedule Elaine for your 2020 workshops, keynotes and training programs before the best slots are taken! BOOK NOW!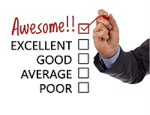 Contact Occupancy Solutions for your property management and hospitality solutions today! Call 1-800-865-0948 or visit
www.occupancysolutions.com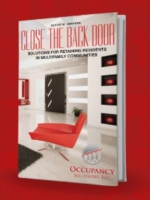 ELAINE'S NEW BOOK NOW AVAILABLE!
Close the Back Door: Solutions for Retaining Residents in Multifamily Communities